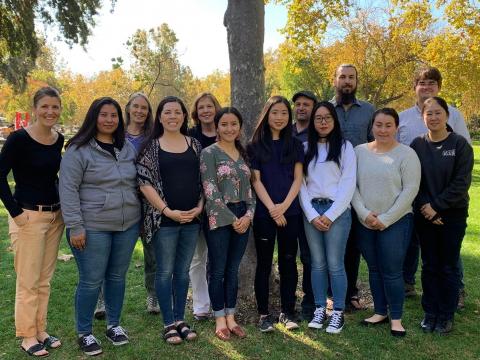 CCCD Staff and Interns
E. Kim Coontz, Executive Director
Kim has been working with cooperatives for more than 20 years. She was executive Director of Yolo Mutual Housing Association for four years. For more than 14 years Kim worked for the Center for Cooperatives at the University of California at Davis. Kim's experience includes assisting groups in the start-up of cooperatives, teaching cooperative board governance seminars, providing technical assistance to cooperatives, conducting research, writing and endeavoring to find new ways to grow and strengthen the cooperative business model. She has authored and co-authored more than 10 publications about cooperatives and written numerous articles. These include Cooperative Start-up manuals (Steps to Starting a Marketing Cooperative, and Steps to Starting a Worker Cooperative), and a book on child care cooperatives called Bringing Families Together: A Guide to Parent Cooperatives. In 2011 Cooperative Preschools International presented Kim with their National Award for Demonstrated Leadership. She has also published articles on housing cooperatives. In 2004 she was awarded Author of the Year by the National Association of Housing Cooperatives. Kim earned her Master's degree in Sociology from the University of California, Davis. 
Luis Sierra, Assistant Director
Luis has extensive experience in developing agricultural marketing organizations to carry out alternative marketing strategies including agricultural cooperatives, farmers' markets, and investor owned businesses. Luis worked with the Rural Development Center in Salinas, CA to train mixed fruit and vegetable farmers to organize their own cooperative and later became an employee of that cooperative. He has extensive experience in coordinating multi-stakeholder initiatives such as food policy councils and farm-to-institution networks. For two years, he co-hosted and produced Local Dirt, an acclaimed radio show on KDVS focusing on local agriculture and food security issues. He serves as treasurer for Dos Pinos Limited Equity Housing Cooperative, and was a director for the Organic Farming Research Foundation from 2003-2008 and Marina Certified Farmers' Market from 2003-2005. 
Frances Andrews, Bookkeeper
Frances joined the CCCD staff with more than 20 years of bookkeeping experience.  She is integral to managing CCCD's accounts, including supporting grant budgeting, management, and financial compliance. Frances' professsional experiences are broad, including operating her family farm for 10 years, and leading a gardening business that focused on permaculture. She has a BA in History from Duke University.
Gianna Banducci, Cooperative Development Specialist
Gianna joined CCCD in June 2019. She first stepped into the world of co-ops as a member of Arizmendi Bakery in San Rafael. In addition to learning the ropes of commercial baking, she supported the growth of the co-op's community partnerships and engagement. Following this, Gianna spent the next three years building Our Table Cooperative, a multi-stakeholder food and farm co-op located near Portland, Oregon. As a founding member, Gianna dedicated her efforts to marketing, sales, outreach, and organizational structure and process. During her time in Oregon, Gianna also served on the boards of Alberta Co-op Grocery, as vice president, and Our Table Cooperative, as treasurer. Over the years, Gianna has collaborated with small entrepreneurs on organizational visioning, multi-channel marketing strategy, business development, and community growth. Gianna earned her Master's degree in Food Culture and Communications from l'Università degli studi di Scienze Gastronomiche.
Jamie Duong, Cooperative Business Specialist 
Jamie began her tenure with CCCD as a volunteer student intern. Following a year of interning, Jamie joined the staff. She specializes in worker and housing cooperatives. Jamie has contributed to developing 7 feasibility studies/business plans, and is our "go to" for patronage accounting and audits. She coordinates CCCD's business planning and housing internship programs. Jamie has a BS in Economics with minors in Accounting and Classical Civilization from UC Davis.
Maria Olmedo, Cooperative Facilitator
Maria serves as cooperative mentor and manager for CCCD's "Build and Recruit" Cooperative start-ups. Currently, she focuses on serving and supporting Yolo Eco-Clean Cooperative (YECC). Maria works to facilitate the co-op's business development, supporting members in learning all aspects of being and becoming owners, ensuring that the business is in good financial standing, mentoring and problem solving with members, responding to potential and current client needs, marketing the business, and assisting with fundraising. Maria has a BA in Social Science from California, State University Sacramento.