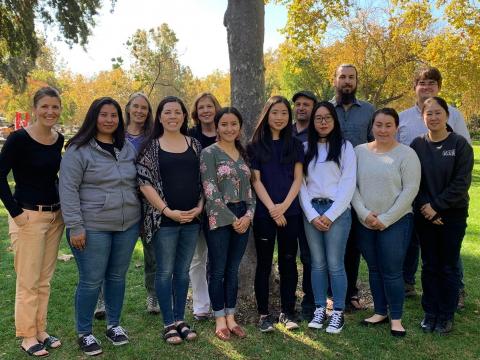 CCCD Staff and Interns
E. Kim Coontz, Executive Director

Kim has been working with cooperatives for more than 30 years. She was Executive Director of Yolo Mutual Housing Association for four years and held an academic position with the Center for Cooperatives at the University of California at Davis for 14 years. Kim's experience includes assisting groups in the start-up of cooperatives, teaching cooperative board governance seminars, providing technical assistance to cooperatives, conducting research, writing, and endeavoring to find new ways to grow and strengthen the cooperative movement. She has authored and co-authored more than 12 publications about cooperatives and written numerous articles. These include the 2021 Landscape of California Cooperatives report, Cooperative Start-up manuals, and Bringing Families Together: A Guide to Parent Cooperatives, a book on child care cooperatives. She has also published articles on housing cooperatives. In 2011, Cooperative Preschools International presented Kim with the National Award for Demonstrated Leadership. In 2004, she was awarded Author of the Year by the National Association of Housing Cooperatives. Kim has an MA degree in Sociology from the University of California, Davis.

Jennifer Attridge, Bookkeeper

Jennifer joined CCCD in July 2022 with more than 30 years of bookkeeping and HR experience. She is integral in managing CCCD's accounts, including supporting grant budgeting and management, and financial compliance. Jennifer's professional experience includes employment with for-profit and not-for-profit organizations, both nationally and internationally. She has a BA in Organizational Studies from the University of California at Davis and a Cambridge English Language Teaching Accreditation (CELTA) from Holmes College in Melbourne, Australia.

Vinita Domier, Office and Events Manager

Vinita has over twelve years of office administrative experience and over twenty-five years of experience in planning and organizing social, cultural, educational, and fundraising events. Her administrative and event organizing has encompassed wide ranging Davis-based non-profits including Sahaya International, Davis Astronomy Club, Explorit Science Center, International House Davis, India Association of Davis, Davis Girl Scouts and Boy Scouts, local school PTAs, and many others. She is also a volunteer NASA Solar System Ambassador and current Board member of Sahaya and Explorit. In 2019, US Rep. John Garamendi honored Vinita with the Woman of the Year Congressional commendation for volunteerism. Her cooperative experience began as a member of a student housing cooperative at UCLA, where she met her husband. Vinita has a BS in Electrical Engineering from the University of California, Los Angeles.

Rafael Flores-Jones, IT Support Specialist and Systems / Network Administrator

 

Rafael has provided a wide range of technical support to CCCD for more than 12 years. He has over twenty years of experience providing technical services to multiple non-profits and residential and commercial clients. He migrated CCCD's infrastructure to a cloud-based platform to facilitate staff working from home during the Covid-19 pandemic, and he continues to provide ongoing support for data management, security, analytics, and user account management. Rafael has been instrumental in CCCD's ongoing efforts to provide workshops as webinars that have been viewed live by thousands of individuals. He manages behind-the-scenes aspects of deployment, monitors events, and conducts post seminar outreach, including graphic design and video editing of recordings for upload to media platforms. Rafael holds degrees in Computer Science, Graphic Communication, and Fine Art, as well as multiple industry certifications. He is also bilingual in English and Spanish.

Megan Krekorian, MHP Marketing and Acquisitions Manager

Megan is a Manufactured Housing Marketing Acquisitions Manager in CCCD's CaliROC program. Megan brings a unique perspective blended from past experience in both the private and nonprofit sectors. Since 2006, she has been involved in private real estate investment and asset management, strategic planning, and operations management. She was responsible for managing capital improvement projects, annual operating budgets, market studies, park owned home remodels, public agency inspections and relations, as well as tenant relations. Prior to real estate, Megan was the Executive Director at a local nonprofit in Placer County, California, where she was active in program development, marketing, management, budgeting, grant writing, and fundraising.

Pedro Maturana, Worker Cooperative Specialist / Facilitator

Pedro specializes in worker cooperatives. He serves as the Cooperative Facilitator for Co-op Home Care and generally supports CCCD's worker cooperative initiatives. Pedro's experience includes seven years as a worker member with Arizmendi Bakery and Pizzeria Emeryville where he was involved in member recruitment, orientation, training, and scheduling. For two years he worked with the Arizmendi Association, the entity that provides development support and technical assistance to the member bakeries. In this capacity he developed procedures, systems of accountability, as well as coordination and facilitation support. Pedro has a BS in Philosophy and a double minor in professional writing and sociology from the University of California, Davis. He is also bilingual in English and Spanish.

 

Aldo de la Mora, Agriculture Cooperative Development Specialist

Aldo has extensive experience in pest management and working with small farmers. He worked with coffee farmers in Chiapas, Mexico, for more than ten years during which time he completed his PhD. He completed a postdoctoral fellowship at University of Vermont with work associated with small coffee farmer associations or ejidos, including forming informal cooperatives and developing technical farming resources. The post-doctoral project focused on building resilient communities in the face of climate change and unpredictable coffee markets. Aldo has successfully led collaborations between farmers and researchers for numerous research projects, and has effectively overseen budget management for projects he has participated in. One of these projects was the CONACYT-UC MEXUS binational grant, which included professors and students from both Mexico and California. His work at CCCD involves working with underserved farming communities in California.

 

Deborah Yashar, Agriculture Cooperative Development Specialist

Deborah has dedicated her career to supporting the resiliency of regenerative farmers and the organizations that support them. She has worked with the Ecological Farming Association (EcoFarm), Agriculture Land-Based Training Association (ALBA), Multinational Exchange for Sustainable Agriculture (MESA), Community Agroecology Network (CAN), and Awe Sum Organics. Projects included the development of farmers markets, business and marketing education, and increasing access to healthy, organically produced foods both on the ground and through policy advocacy. She has launched a variety of creative campaigns and organized events such as the annual EcoFarm Conference - the largest sustainable agriculture conference west of the Mississippi. Deborah serves on the board of directors of her local BriarPatch Food Co-op. Deborah holds a BA in Agroecology and Sustainable Agriculture from UC Santa Cruz and enjoys any opportunity to put her Spanish or Portuguese speaking ability to use.

Tahnisha Crooks, Outreach and Communications Associate

 

Tahnisha began at CCCD as a student intern in 2019, supporting the annual CA Co-op Conference and related initiatives. Following a break, Tahnisha began part time employment with CCCD in 2021. Her work focuses on administering CCCD's outreach and communication and managing cooperative education and informational posts on social media platforms. She also provides administrative support. Tahnisha is a full-time student majoring in English.

Alicia Sloper, Administration & Communication Support Specialist

Alicia joined CCCD in 2023 to support with Admin and Communications. Alicia's background is in public affairs working on statewide and federal legislation and as a marketing consultant for a prominent audio software company. Alicia received a certification in digital marketing from UC Davis Extension and her bachelor's degree in political science from Sonoma State University, where she focused her studies on commonwealth resource management.

Jordan Trujillo, Co-op Home Care: Systems and Funds Development Associate

Jordan assists CCCD's Co-op Home Care program as an AmeriCorps VISTA member. He works on developing systems and strategies that streamline operations, conducting research on available funding and market trends, documenting model policies, and generally assisting project supervisors. He first became aware of cooperatives while writing a profile on his late grandfather, who had established a cooperative in his small hometown in Mexico. Jordan has a BA in International Relations from the University of California, Davis. He is bilingual in English and Spanish.