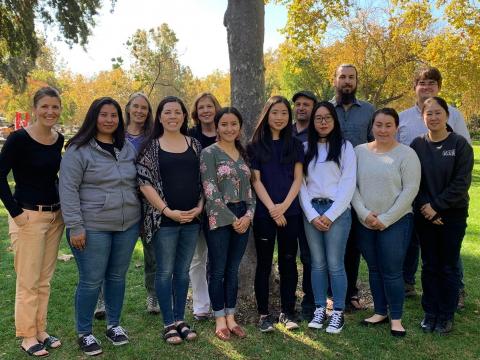 CCCD Staff and Interns
E. Kim Coontz, Executive Director

Kim has been working with cooperatives for more than 30 years. She was executive Director of Yolo Mutual Housing Association for four years. and held academic position with the Center for Cooperatives at the University of California at Davis for 14 years. Kim's experience includes assisting groups in the start-up of cooperatives, teaching cooperative board governance seminars, providing technical assistance to cooperatives, conducting research, writing and endeavoring to find new ways to grow and strengthen the cooperative movement. She has authored and co-authored more than 12 publications about cooperatives and written numerous articles. These include a 2021 report on the Landscape of California Cooperatives, Cooperative Start-up manuals, and a book on child care cooperatives called Bringing Families Together: A Guide to Parent Cooperatives. In 2011 Cooperative Preschools International presented Kim with their National Award for Demonstrated Leadership. She has also published articles on housing cooperatives. In 2004 she was awarded Author of the Year by the National Association of Housing Cooperatives. Kim has as an MA degree in Sociology from the University of California, Davis.

Jamie Duong, Business Planning & Finance Manager

Jamie began her tenure with CCCD as a volunteer student intern. Following a year of interning, Jamie joined the staff. She specializes in worker and housing cooperatives, and provides financial services support for CCCD's CaliROC program. Jamie has developed more than seven feasibility studies and business plans for worker and childcare cooperatives, and is currently engaged in a feasibility study related to a food processing facility.  She has led trainings on the financial structure of worker cooperatives and is a resource for patronage accounting and audits. She leads CCCD's business planning internship program, and is active in CCCD's grant planning and writing. She is also a founding member of Resolve Financial Cooperative, a bookkeeping worker cooperative. Jamie has a BA in Economics with minors in Accounting and Classical Civilization from the University of California, Davis.

Frances Andrews, Bookkeeper

 

Frances joined the CCCD staff with more than 20 years of bookkeeping experience.  She is integral to managing CCCD's accounts, including supporting grant budgeting, management, and financial compliance. Frances' professional experiences are broad, including operating her family farm for 10 years, and leading a gardening business that focused on permaculture. She has a BA in History from Duke University.

Adrian Asbun, MHP Marketing & Acquisitions Specialist

Adrian is a part of the CaliROC team where he helps in marketing, acquisitions, and cooperative development for manufactured housing and other housing cooperatives. He has previous experience in community engagement and managing his small personal training business. Adrian draws on this community development experience working on the Solano County Innovations Project in Northern California, where he worked with the LGBTQIA+ community on a project to reduce the stigma around mental health and to increase the use of county behavioral health services by underserved populations. He successfully coordinated and managed a robust LGBTQIA+ Senior program and formed a county-wide coalition of affirming faith-based leaders. He also conducted humility trainings for county service providers to improve access to equitable resources for LGBTQIA+ community members in Solano County. Adrian has a BA in Sociology and a minor in Environmental Policy and Planning Analysis from the University of California, Davis. He is also bilingual in English and Spanish.

Vinita Domier, Administrative and Event Planning Associate

Vinita has over ten years in office administrative experience and more than 20 years of experience in planning and organizing social, cultural, educational, and fundraising events. Her administrative and event organizing has encompassed wide ranging non-profits, including Sahaya International, Davis Astronomy Club, Explorit Science Center, International House Davis, India Association of Davis, and many others. She is also a volunteer NASA Solar System Ambassador. In 2019, US Rep. John Garamendi honored Vinita with a Congressional commendation as Woman of the Year for volunteerism. Her cooperative experience began as a member of a student housing cooperative at UCLA, where she met her husband. Vinita has a BS in Electrical Engineering from University of California, Los Angeles.

Rafael Flores-Jones, IT Support Specialist and Systems / Network Administrator

 

Rafael has provided a wide range of technical support to CCCD for more than 12 years. He has over twenty years of experience providing technical services to multiple non-profit, residential and commercial clients. He migrated CCCD's infrastructure to a cloud-based platform to facilitate staff working from home during the Covid-19 pandemic, and he continues to provide ongoing support for data management, security, analytics, and user account management. Rafael has been instrumental in CCCD's ongoing efforts to provide workshops as webinars, which have been viewed live by thousands of individuals. He manages behind-the-scenes aspects of deployment, monitors events, and conducts post seminar outreach, including graphic design and video editing of recordings for upload to media platforms. Rafael holds degrees in Computer Science, Graphic Communication, and Fine Art, as well as multiple industry certifications. He is also bilingual in English and Spanish.

Megan Krekorian, MHP Marketing & Acquisitions Manager

 

Megan is a Manufactured Housing Marketing & Acquisitions Manager in CCCD's CaliROC program. Megan brings a unique perspective blended from past experience in both the private and nonprofit sectors. Since 2006, she was involved in private real estate investment and asset management, strategic planning, and operations management. She was responsible for managing capital improvement projects, annual operating budgets, market studies, park owned home remodels, public agency inspections and relations, as well as tenant relations. Prior to real estate Megan was the Executive Director at locally based nonprofit in Placer County California where she was active in program development, marketing, management, budgeting, grant writing and fundraising.

Pedro Maturana, Cooperative Specialist / Facilitator

Pedro specializes in worker cooperatives. He serves as the "Cooperative Facilitator" for Co-op Home Care and generally supports CCCD's worker cooperative initiatives. Pedro's experience includes seven years as a worker member with Arizmendi Bakery and Pizzaria Emeryville where he was involved in member recruitment, orientation, training, and scheduling. For two years he worked with the Arizmendi Association, the entity that provides development support and technical assistance to the member bakeries. In this capacity he developed procedures, systems of accountability, as well as coordination and facilitation support. Pedro has a BS in Philosophy, and a double minor in professional writing and sociology from the University of California, Davis. He is also bilingual in English and Spanish.

Aldo de la Mora, Cooperative Development Agriculture Specialist

 

 

Jose Armando Munguia, Cooperative Development Agriculture Specialist

 

Jose Armando is a Cooperative Development Agriculture Specialist, where he supports farmers with cooperative training and agriculture technical assistance. He invested the early years of his career in organizing rural communities to support access to higher education for disadvantaged students creating civic empowerment workshops and lobby days. Later, he opened agriculture trading channels and markets in Latin America, conducting business in over 11 countries. Jose Armando guided foreign customers in conducting business in the United States and ensured their success through innovative solutions and attention to supply chain efficiency. While in graduate school, he became aware of cooperatives as a tool to empower workers with self-determination and practice democratic values. Jose Armando Munguia earned a Master of Public Administration from Seattle University focused on social justice solutions.

Tahnisha Crooks, Outreach & Communications Associate

 

 

Miranda Duncan, Co-op Home Care Communications Associate

 

 

Dominic Nicoletti, Cooperative Communications Associate

Dominic supports CCCD with Communications and Outreach. He is currently working on CCCD's Co-op Home Care project, recruiting caregivers, assisting with marketing, and developing an Outreach toolkit for the co-op. He has a BA in History from the University of San Francisco.