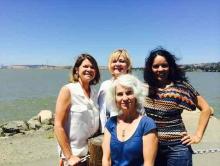 By Rachel Raskin-Zrihen, Vallejo Times-Herald
August 8, 2016
Paula Schnese says she's tired of big corporations dictating what we eat and is determined to provide better food choices — at affordable prices — for Vallejo and Benicia residents by helping create a food co-op here.
Already, she and at least three other local women — Ana Acosta, Cecile Kazemi and Nancy Harlander — are on the food co-op bandwagon, which they say is in the first of a three-stage process.
"I moved here three years ago and was appalled at the lack of food choices," the Wisconsin native said. "There are no small markets supplying locally, sustainably grown food."
The women say the Benicia/Vallejo Food Co-op would be this area's answer to Trader Joe's — a brick and mortar grocery store, owned by community members, and selling "locally sourced, ethically produced foods."
A food co-op is better than a Trader Joe's, said Schnese. "We expect people to be very excited about this once they do some research about what this is."
There are examples of food co-ops in Davis, San Francisco and elsewhere, where the women have visited for a glimpse of how they work, they said.
"It's a consumer co-op," Schnese said. "Anyone can shop there, but if you're an owner, you get a dividend check at the end of the year. It's about providing fresh, local food and building community — keeping the money in the community and not lining corporate pockets."
A main mission of the Benicia/Vallejo Food Co-op will be connecting the two communities, the woman said.
"It's all about building the communities around it," Schnese said. "Through the store, through getting great locally grown food and being owners and getting profits from our communities. It will create jobs, also. The difference between this and an ordinary grocery store is that nearly everything in the food co-op is local, from local farmers and food producers — within 100 miles of us — so we can stock a wider variety of fewer individual items from small farms."
Education about food, cooking and nutrition is another co-op component, with the store serving as a meeting place and classroom, they said.
Harlander said she's excited by the grass roots effort to "promote healthy food in our community that we're creating, as opposed to asking a corporation to come in and help us."
Kazemi expressed a similar take.
"Sustainable, organic foods is the direction (the world) is heading, and the fact that we live within a 100-mile radius of where nearly anything we need is produced, while creating jobs, well, I think the whole concept is significant, especially now," she said. "So, you don't have to drive a long way and spend half your paycheck to get something you need to stay healthy. It's not an exclusive club; it's for everyone."
Since bringing the idea up in January, Schnese said an added bonus has been meeting "so many cool people," who she's introducing to the concept.
"Our goal is to get 1,500 members enrolled," Schnese said. "This is a three to five-year process. We're working with a Minnesota organization that helps communities start food co-ops."
Already, the B/V Food Co-op is a member of The California Center for Cooperative Development, according to the group's literature.
"We need to take our food decisions back from the corporations,' Schnese said.
For information, email benicaifreshfoods@gmail.com, or visit on Facebook at Benicia/Vallejo food coop.
Contact Rachel Raskin-Zrihen at (707) 553-6824.
To read the original article, click HERE.